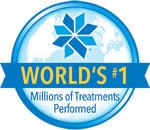 CoolSculpting®'s unique technology uses controlled cooling to freeze and eliminate unwanted fat cells without surgery or downtime. The procedure is FDA-cleared, safe and effective. The results are lasting and undeniable. With millions of CoolSculpting® treatments performed worldwide, people everywhere are getting a better view of themselves, thanks to CoolSculpting®, the world's #1 non-invasive fat reduction procedure.
Click below to learn more about CoolSculpting®.
Make your CoolSculpting® treatment an even more rewarding experience by joining Brilliant Distinctions® . Brilliant Distinctions® rewards you with instant savings on Allergan aesthetic treatments and products.
Purchase CoolSculpting® Cycle and
Receive the 2nd 1/2 OFF
*Add 2 quantity to the cart and discount will apply.